Today' newspaper column. A real abuse of the legislative process
By OutdoorsWithDon | February 04, 2016 at 01:39 PM EST |
No Comments
Legislator reintroduces high-powered proposal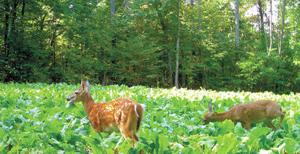 State Representative Lloyd Arnold did an end run around the public process and reintroduced a bill to allow high-powered rifles for deer hunting in Indiana again despite it being defeated last year following public outcry.
What do you do if the majority tells you they don't like your ideas or plans?
If you are 8 years old, you take your ball and go home. If you are the Indiana Department of Natural Resources or a growing number of elected representatives in Indiana, you simply ignore them, force your will on them and tell them they just don't know what's good for them.
The rule that would allow high-powered rifles for deer hunting in Indiana is back, but this time a state representative with the involvement of the IDNR is doing it secretly and outside the public process.
"I tried to introduce this bill three years ago with no success. Then it failed administratively last year, so I decided to take care of this judicially again by introducing another bill," said Indiana Representative Lloyd Arnold (R-74).
He recently wrote and introduced House Bill 1231, which quietly passed out of committee with a unanimous vote.
The bill requires the DNR Director to establish a deer-hunting season in which certain rifles may be used. The bill places no limit on how big a gun can be, only how small it can be.
It was co authored by Representatives Steve Stemler, D-Jeffersonville, Sean Eberhart, R-Shelbyville and Mike Aylesworth, R-Hebron.
Arnold's arguments for the inclusion of long-range guns here are almost verbatim from the DNR and Natural Resources Commission's arguments that were rejected by the public in the open process last year.
The last time around, the DNR wrote the rule after getting two letters asking for rifles. They had previously always ignored those infrequent requests but for some reason got behind it last year.
The proposal was rejected by the NRC after deer hunters, conservationists, city managers and nearly everyone else said they did not want rifles here.
Since the DNR was behind the last introduction, it should come as no surprise that Representative Arnold has been in contact with the DNR since the beginning of this latest end-run around the majority rule.
That disregard for the public process and the opinions of Indiana residents to shape policy and craft laws are what is most disturbing about this.
Though Arnold disagrees with the arguments presented against the last proposal, here are a few, in a nutshell.
Some opponents presented ballistics statistics that illustrated how rifles are more dangerous in our state due to our terrain and density of population, and that comparisons to other states were not valid.
Others argued that it is not necessary to create more opportunities for women and children to hunt deer with an easier weapon since we already have the most liberal and longest seasons in the Midwest, and that currently approved rifle cartridges kick far less than muzzleloaders and slug guns.
Many Hoosiers also argued that our deer herd is already declining and that bigger guns only worsen the hunting experience.
There were a host of other previously settled points raised by the majority as well, but those things clearly don't matter.
What should move Hoosiers to revolt on this issue is that a couple legislators knew the public spoke on an issue and blatantly ignored it for some sort of personal agenda.
And there is little room for anything besides a personal agenda on this matter.
Representative Arnold denies any personal agenda, saying the DNR told him the opinions on introducing high-powered rifles were pretty well split in the past.
But why look to the DNR on this issue?
The answer is because they already had a track record of wanting all guns all the time. They have been exclusively about killing instead of hunting for a long time.
Their silence on this issue this time around speaks volumes.
Arnold could have gone back and read the stacks of comments against his new law, but likely didn't because those comments wouldn't have told him what he wanted to hear.
We can all fight this again, and probably should for the same reasons we did the last time around. A bigger fix is clearly needed, however.
First, call your legislator and tell them what you think of this stunt. Then, find out if your legislators support legislation that bypasses or ignores public sentiment, and vote for the other person.
In the mean time, I have a compromise for Representative Arnold.
Make all long-range, high-powered rifles legal in 2016 in your district only. Since he told me his friends and kids want them, why not just use them and District 74 as the guinea pigs to see if it is safe and good for the sport and state.
The rest of us would like to stick with the concept that the majority rules in a democracy, and not have to repeatedly defend ourselves against people with power and the ability to ignore it.
Dad and I fishing the old-fashioned way.