Today's newspaper column
By OutdoorsWithDon | November 05, 2015 at 06:21 PM EST |
2 comments
Less deer, more money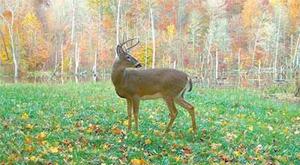 A young buck is shown on Mulligan's farm. Fewer deer means more pressure on the deer that exist, and only the wealthy can afford property that consistently holds deer bigger than this.
The equation Indiana hunters must solve to guarantee a big buck in their home state is an easy one. Some hunters do it here every year, and they don't hunt tame deer behind a high fence.
It goes as follows.
Step one: Get a million dollars. Step two: Spend it all on a dedicated hunting property. Step three: Hunt whenever you feel like it and choose which Boone and Crockett buck you want to tag.
Step one may be tough for some, but the point is, if you have money big bucks are easy. In recent years the importance of money is becoming more obvious than ever in Indiana.
Indiana is blessed with the requisite genetics, climate, food and habitat to grow big deer, but bad management has resulted in fewer deer and trumps all of those things.
The only thing that trumps bad management is big money.
There are several ways money can guarantee success in Indiana. Just ask every television hunting celebrity who comes to Indiana and kills a buck bigger than anything 90 percent of the resident hunters will see in their lifetime.
In the 2000's, Michael Waddell came here and tagged a real monster. He was, however, hunting a 4,000-acre private farm managed just for age-class deer. His celebrity bought that deer.
Lots of hunters have purchased their own piece of land to deer hunt in peace, but unless they bought 600 acres of contiguous land with ample cover and food, the big bucks they might see are the product of sheer luck.
To own 600 acres in Indiana you will need a million dollars because tillable land here is selling between $7,000 and $11,000 an acre, and there isn't any cheap "junk land" left to buy.
I own 201 acres and have given up trying to grow deer beyond 3 years old. All it takes is one neighbor who spotlights, baits or gun hunts before gun season starts and every property within two miles is doomed.
To further support the need for a million dollar property, a recent study of a collared buck in Pennsylvania revealed that in November, some bucks leave a home area and wander up to five miles in a 12-hour period. It is safe to assume all bucks travel at least a couple miles a day when the rut is in full swing.
And when deer are scarcer than ever, as they are now due to bad management in Indiana, there are more poachers tagging those wanderers. People who might have hunted legally get frustrated and resort to doing whatever it takes to kill a deer.
If deer numbers stopped declining and rebounded to where they were five years ago, it wouldn't take a million dollars to see big bucks again. But that would require the state to change the rules to reflect the wishes of hunters again.
If they did, not as many people would resort to poaching to kill deer, and more deer would survive to an older age. And in Indiana, that is the only piece of the equation small property owners can't solve.
There is one other way to buy your way into the kind of hunting large parcel owners still enjoy today in Indiana. A great lease will do the trick, but again, due to the depleted deer herd, the lease better be big and lay right.
A great lease must not only be big, it also has to have both cover and food and be landlocked. Properties connected to other properties by forest are more difficult to protect from poaching, especially at a time when poachers are more desperate.
Great leases in Indiana are trading for $25 to $30 per acre. Even at the low end of the price range, hunters should expect to pay $15,000 per year for hunting rights on 600 acres.
Anything less under the current rules, and slide in the deer population is a waste of money for hunters who want to see mature bucks.
None of this is meant to encourage Indiana hunters to forgo the upcoming firearms season. We all just need to be happy with what the Indiana Department of Natural Resources has left us and hope to win the lottery some day.
Then we can join the ranks of the wealthy deer hunters who are increasingly the only people consistently killing big deer in Indiana.
Dad and I fishing the old-fashioned way.